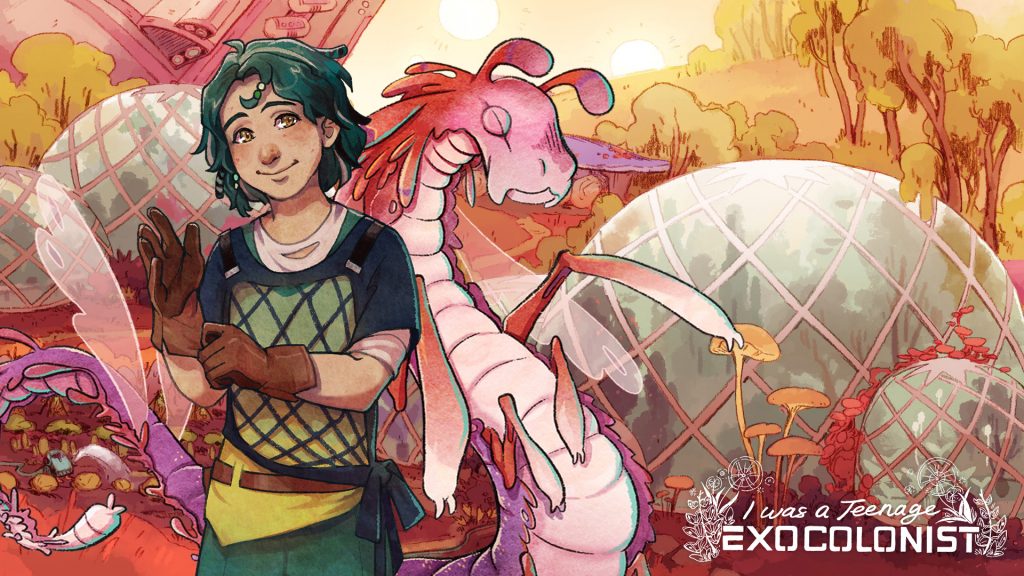 The art of Exocolonist has been getting so much positive feedback! Folks dig it.
It's been a long road. When I started this game I had the audacious idea that I'd do the art myself. I amassed a considerable Pinterest mood board, collecting any picture that felt like part of the Exocolonist art puzzle. I went through a phase of thinking it might look like a campy pulp fiction cover crossed with child's finger painting (but with glitter!).

I spent weeks trying to find a style that I could do quickly with my limited abilities, but as the project grew and the idea of dateable characters became a must-have, I realized I didn't have the skills to draw characters you could fall in love with (or be remotely attracted to). Plus it would have added more time to an already long development schedule. But some of the creatures were cool.

I decided it'd be best to find someone who already worked in the style I was looking for, whatever that was. I went hunting. I found Sarah Webb at the VanCAF comic fest where she was showing Kochab. I loved her environments, her casual but undeniably living line work, and her rich color schemes. I'd never seen anyone who could make snow so colorful.
Sarah soon joined on to work on the concept art and help find a style that was both hers and Exocolonists'.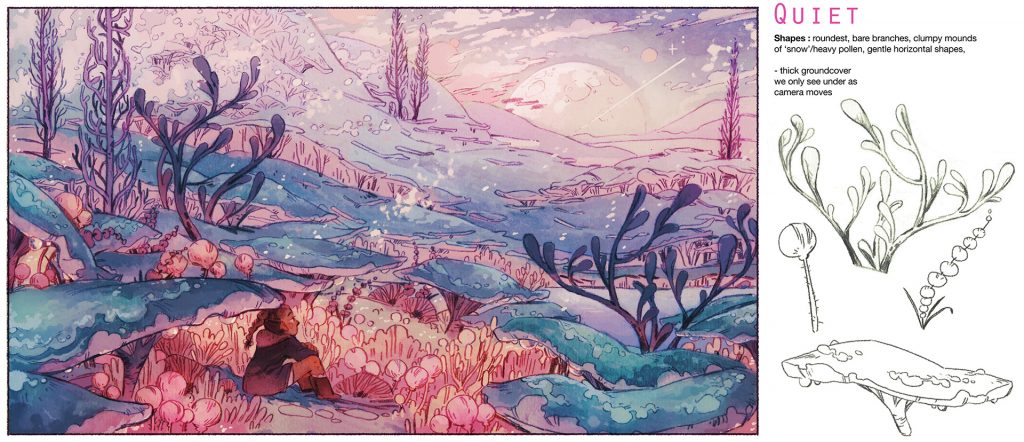 I loved that Sarah did some of her work with pencil and watercolor, and other times it was completely digital, and hard to tell the difference. This was the look I wanted, both for the fullscreen illustrations and the environments on the area maps where you run around between events. Sarah shared her Photoshop brushes and techniques for getting that look.
Next Meilee Chao came on to design and illustrate our characters (more on them in future posts) and has also done a fantastic job adapting the concept art to a waving, breathing alien jungle. It's like talking a stroll through a watercolor painting.


I added a wave shader, particles, fog, and depth blur to the 2d sprites in Pollen season

We haven't shied away from the colors pink and purple in this game, even though I've been known to personally reject them as "too girly" in my own life and wardrobe. Exocolonist isn't meant to appeal only to women; I just think it's a cool and underused palette. It also fits the science: most plants on the planet Vertumna photosynthesize using a red pigment instead of a green one.
I'll talk about other aspects of the art – the characters, creatures, 3d elements, and UI – in future posts. For now I'll leave you with our newest team member Eduardo Vargas' event backgrounds. Sarah Webb has moved on to other projects, but Ed is doing a fantastic job matching her style!