Anemone cosplay by Ellie Amber, directed/edited by LAYER013Photography
For I Was a Teenage Exocolonist's release, we partnered with some phenomenally talented cosplayers, including the amazing Ellie Amber featured here dressed as adult Anemone. I was absolutely bowled over with how much creativity and attention to detail went into these costumes.
Seriously, so beautiful!! Check out Ellie's making-of process videos on Instagram:
Ellie also created a PDF of cut-and-sew patterns for the costume and accessories, right down to Anemone's scale-armored skin flakes: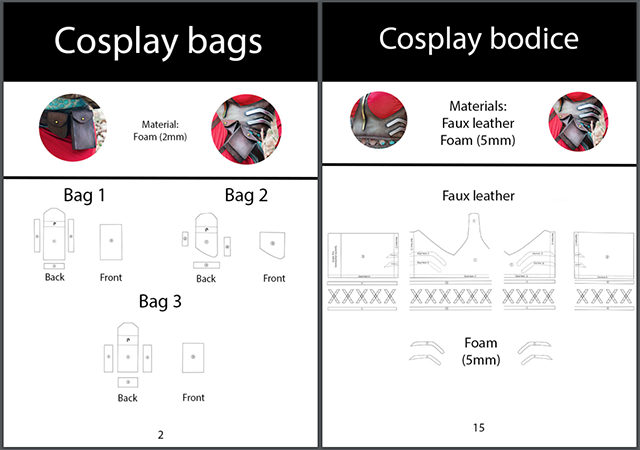 And there are so many others! This was organized by our friends at Finji and ICO, so each new cosplay post was a delightful surprise to me and the Exo team. Seeing our characters out in the real world is so magical! Many of these creators also posted creation process videos, so scroll through their feeds for more instructions/techniques/mindblowing gorgeousness.
Behold, more Exocolonist cosplay:
More Marz content? ✨
Character: Marz
Game: "I Was A Teenage Exocolonist" pic.twitter.com/fIklR5VhXX

— Capt. Bee D. Grizzley (@cosplaywithbee) September 11, 2022
To celebrate the launch of @exocolonist, I made this Tammy cosplay! If you like beautiful art, narrative-driven gameplay, and aren't afraid of some adult themes, check out I Was a Teenage Exocolonist! https://t.co/rAgbCjylF2

Brought to you by @FinjiCo pic.twitter.com/pTPFULeN9I

— Ashweez Cosplay (@ashweezcosplay) September 3, 2022
First two pics of my Anemone cosplay from the amazing game "I was a teenage exocolonist" ♡@exocolonist
By @FinjiCo #exocolonist pic.twitter.com/kFKrLV2b3o

— SelediaCosplay Japan Weekend🌸 (@SelediaCosplay) September 5, 2022
@exocolonist amazing videogame ❤️😍 @FinjiCo

I love it Utopia

More information https://t.co/47e9UU5CSP#ad #cosplay #game #exocolonist pic.twitter.com/1aGn31RBzs

— JillStyler Official (@JillStyler) September 5, 2022
And here is the video version of the @exocolonist project. The game has just launched, and it was a pleasure to work on a costume for the release. #ad #exocolonist pic.twitter.com/3xuABlYhpf

— arborealkey (@arborealkey) August 25, 2022
Clémentine also made (and sent us!!) this gorgeous bobber fruit used in the above video: