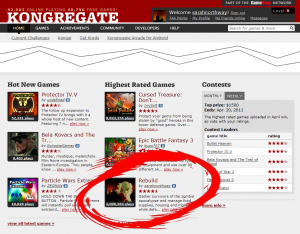 My game Rebuild was more successful than my highest hopes. It's nearing 2 million plays just on Kongregate alone, and is still the #3 game in their rankings. So there's no doubt I'll do a sequel and it's about time I got started!
I've gotten heaps of suggestions by email, pm, and in the forums at TwoTowers, Kongregate and Newgrounds. I've been collecting these and trying to get a feel for how people are playing the game.
I noticed something interesting: many people play to completion, trying to get all four endings in one game, preferrably on the same turn. This is not at all how I play; I just want to get to an equilibrium where I'm not in constant danger of being wiped out, usually around turn 75. Mopping up the remaining 2/3 of the map isn't interesting to me, so I didn't make a lot of content for the lategame. This is how I imagined a game going:
Turns 1 – 24: worry about food
Turns 25 – 44: worry about zombies
Turns 45 – 74: worry about happiness
Turn 75: either you've stabilized and won, or you're dead and don't know it yet
These numbers are hardcoded: zombie mobs first arrive on day 25, and on day 45 the zombie spawning caps out and new happiness-related events start happening. But people are playing until turn 250 and conquering all 100+ squares. So, my first priority for the sequel is to take this play style into account and make sure the game stays interesting for longer, especially on easy difficulties. There will be many more random events, and branching storyline events where you have to answer yes or no questions which influence future events. Maybe even factions you can effect, or special named npcs that join the fort if you meet certain conditions.
I was also super pleased to see people swapping stories of their survivors; the funniest names or most eyes lost (I saw 9) and the random stuff that happened to them. So my second goal is to make survivors more customizable and unique, with equipment and skills and levelling. Varying skin and hair color and yes, there will be things to lose other than eyes.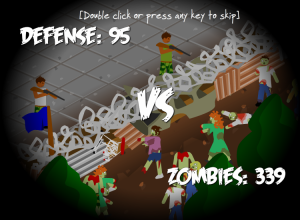 The biggest complaint was the art (though some people liked it's simplicity), followed by the fact that the zombie attacks weren't interactive. The art will get some attention (hopefully with help from someone else), specifically the animations which I admit are totally pathetic. No promises, but I also want to replace the attack animation with a minigame that changes your odds by +/- 10%. Skippable of course, and hopefully more interesting than your usual point and click shooter.
So those are the big 3 (more lategame content, more unique survivors, better zombie attacks), but of course there will be new buildings and effects, improved art all around and I'm going to address some stuff that drives everybody (including me) crazy about Rebuild, like:
All the clicking involved in sending 10 guys on a mission in the lategame
Having to move people on and off guard duty all the time
Squares filling up with zombies the turn after you clear them
20 zombies spawning every turn in the last couple squares on the map
Losing a single 3% danger fight in Harder or Nightmare can ruin you
Of course there are a lot of suggestions that won't make it in, like I'm not going to attempt multiplayer or add an XCom-style tactical battle system (I wish, that would be awesome!). I'm already starting a list of ideas for Rebuild 3 – hah, we'll see!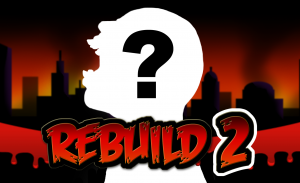 I'm looking for a vector artist to help me out this time, so if you're interested in working on Rebuild 2, drop me a line with your portfolio.
There are a lot of other little things that may or may not make the cut, and the possibility of versions for iPhone and other platforms. But I'm just getting started, so there's still time to send me your suggestions!