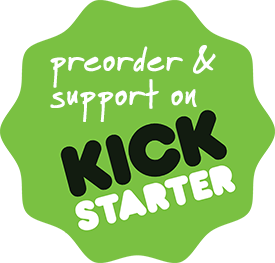 The Rebuild 3: Gangs of Deadsville Kickstarter campaign has been live for about an hour, and already has $2000 in pledges! :D I'm so excited and proud just to be a part of the crowdfunding movement which is changing how indie games get made. Since Double Fine opened the floodgates, crowdfunding has become a viable way to fund game development without a publisher. It's a wonderful way to gather fans together and communally support the creation of something bigger than us. My heart is glowing; let's all join hands and sing now!
Rebuild fans have already been showing their support for this sequel since the Rebuild 3 ideas wiki opened last November. I've gotten so many valuable suggestions that are going to make this new game the best evah, and most of them are in the game already. I've about reached the halfway point and am still on track for a release in Spring 2014.
The campaign will run until October 31st to raise $25,000 to help with the cost of art, writing and music. I'm going to finish the game regardless, but the more money this campaign raises now, the more awesome I can afford to make it. And if we manage to overshoot the goal, I've got some stretch goals I'm just itching to announce.
This is your chance to get in early and preorder Rebuild 3 for Windows & Mac (via Steam or DRM-free direct download). The first 500 will get a discount price, then there are sweet extras like exclusive starting equipment, a digital artbook, a sticker for your laptop or your name and face on actual survivors in the game.
Whoo! Let's do this thing!