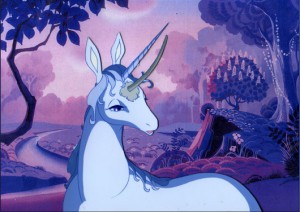 The game I'm working on is really really fun. When I first played it I had near orgasms of delight. The problem is, it's really really hard. I want to give players orgasms of delight but to experience them they have to learn a lot of stuff. I've decided to try to solve this problem with a false unicorn horn.
No one I ever try to explain this to has ever seen The Last Unicorn (which is a shame) so I will fill you in on what I'm talking about. In the movie there is a last unicorn. It also contains Mommy Fortuna, a relatively evil witch who keeps a traveling sideshow of rare animals. Most of her animals are very humdrum but she uses a magic spell to make it appear to onlookers as if they are manticores and satyrs. The pertinent idea here comes up when Mommy Fortuna captures our Unicorn. Since unicorn horns are invisible to the general public she magically applies a false one. This is a great idea that I want to steal.
Since the game is so hard players will never learn how to play it if I just explain all the buttons and throw them in. Red-faced, they will exclaim "this is just a horse" to each-other between quaffs of ale, have a good laugh, and then move on. I need to apply a false horn so that people will play the game even when it is not at its orgasm inducing peak in order to bring them great joy later on when they can see the horn for real. I think there are a couple ways to do this and I want make use of as many as I can. More ideas are appreciated, there is a comment feature on this blog.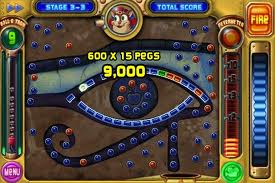 Abuse of Dopamine Receptors. The ultimate false unicorn horn, behavioural psychologists have done a pretty good job of ferreting out the strings attached to our brain that make us dance and have called them dopamine receptors. Things that our brain loves: bright colours, intermittent rewards, a feeling of progress, close calls, basically Peggle. Basically our brains were put here on earth to play Peggle.
Our brain loves these things because they are hints that we are learning something. And god DAMN do we love to learn. The problem with Peggle is that any player-skill is swamped out by the random element. So, like gambling, it's just a trick. An illusion. It tickles the brain making us feel like we're learning something and improving but we aren't. The horn on the unicorn is a fake. There are a lot of other games with big fake horns, like Farmville, WoW, and Drop7 (actually I'm willing to budge on Drop7 if someone can find me a player that reliably gets very high scores).
So anyway, I have to get some fake learning into my game so I can get people to the real learning. I'm not really very good at this and it will take some serious study. Time to download WoW I guess.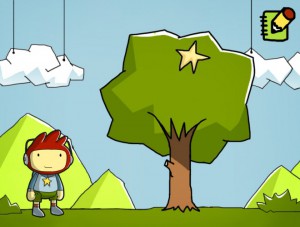 The other way that I can think of to paste a false horn on this unicorn is the "puzzle mode" strategy. The idea here is to provide a totaly different game mode from the one I want players to eventually play. But a game mode that has a learning curve. You can think of it as a very extended tutorial. Or like an upside-down Scribblenauts. Scribblenaut's orgasms came from the sandbox mode. Making Scribblenauts the best kind of game. Everyone could see the horn right from the beginning. But you can't really sell toys right now. Well not un-musical ones anyway. So they had to affix a false horn to get we who aren't good without a reward structure to fondle the real horn.
I have the opposite problem but want to take the same approach. I'm planning to have a fairly long set of puzzles that are more in line with "permute choices until you win" style of play like Splitter or Angrybirds. Which give you all the skills you need to play the more Aramdillo Runy, Contraptiony game later on.
I have hacked out a small level-set to try this out on just a very few testers and the results have been. Well, lackluster is the word. So I definitely have a road ahead. Fortunately the puzzle design was pretty crappy and it had no Peggle elements so I might still manage to weave a horn that will wow the beer-soaked crowds. I can't quite remember how The Last Unicorn ends but I'm pretty sure Mommy Fortuna comes out on top in the end.