EvilKris and I have been working hard on Rebuild 2. Skills and plots are in with about 30 other changes, and there's another 20 to go. Recent additions include renaming survivors, saving in multiple slots, shotguns, helicopters, prostitution, and more kittens.
There are also new buildings and I tweaked the map art to use more gradients and textures. I'm still working on the blood bar; need to make room for more information up there. It's still pretty similar but here's how it looks today: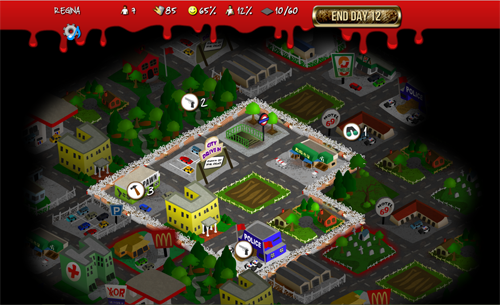 EvilKris is nearly done the new attack screen art, small illustrations to go with various events and possible outcomes. These will be in a kind of a comic book style, hopefully not too gruesome for the squeamish but showing a more realistic depiction of life in the land of the dead. He has more art on his blog.