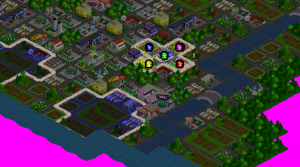 I'm adding some exciting new features to the cities in Rebuild: Gangs of Deadsville.
Well exciting to me, since playing with the map generation code is pretty fun. There will be coastlines where you might find a boat to help you escape the city, and rivers that make great barriers because zombies can't cross them. Zombie mobs have to do some pathfinding to get around now. I know zombies shouldn't be that smart, but it's pathetic to see them bumping into a river over and over.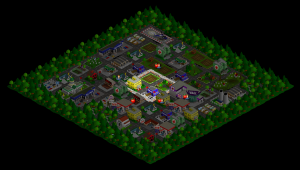 Oh and cities aren't square anymore. One of the best strategies for Rebuild 2 / Rebuild Mobile was to beeline for one of the corners and build your fort with two safe sides – useful but not realistic. The new cities will be round and unevenly shaped, with denser urban areas in the center and farmland around the outside. Your fort will usually start in a balanced area, but some maps might be all farms, all suburbs, or all downtown core.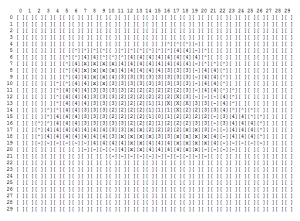 The cities in the main campaign mode will use predetermined random seeds, which means you won't be able to keep restarting until you get a layout you like. For better or worse you'll be stuck with the same city for however many tries it takes to save it.
I'll also include a skirmish mode where you can jump into a city with a random seed and whatever settings you want just like in Rebuild 2 / Rebuild Mobile. Giant size, easy difficulty, winter, with a coastline and two rivers? You got it.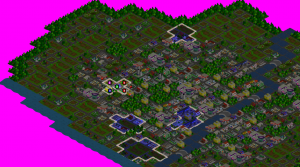 Yes and I've finally added zooming, which honestly you're going to need with some of the new giant sized cities. They average around 1000 squares, whereas in Rebuild 2 the max was 256.
That oughta keep 'em busy.