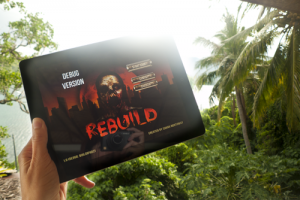 Rebuild is now available for the iPad 2 on the Apple app store!
I am happy to report that the game plays great on the iPad 2. Sarah's done a great job rethinking the interface for the touch screen and this is probably the best version of the game. You can almost feel the zombies clinging to your finger tips.
Sarah also made some new content for the iPad 2 version. She didn't really have time to stuff all the features into Rebuild 2 that she wanted to so this was a chance to get that stuff into the game. You could think of the iPad 2 version as the "complete" version of Rebuild 2.
I don't want to spoil all the new stuff but there is a new plotline (which I wrote, props to me!) with a new building and a new ending. The new plot is unique because it's more of a selfish path through the zombie apocalypse.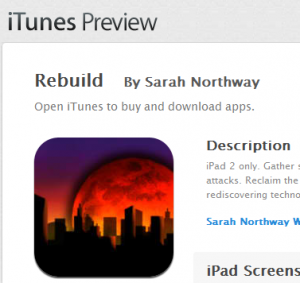 There are also Watch Towers that you can use to keep tabs on the zombie hordes. If you research things right you can even use them to mow down troublesome clumps of zed (a great way for advanced players to keep the danger rating down).
As with Rebuild and Rebuild 2, Rebuild iPad was written entirely while traveling. While Rebuild was mostly written in europe Rebuild 2 was written in Central America. Rebuild iPad was written in Japan and the Philippines!
It was great fun to test. I've played hours and hours of Rebuild and Rebuild 2 but the iPad game really revitaised the fun for me.
I hope you find playing it as great an adenture as making it was!