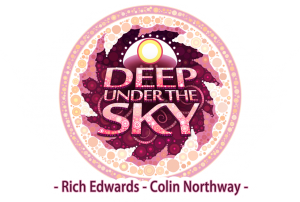 Deep Under the Sky is a new game Rich Edwards and I are going to release very soon, like this month!
But I've been wanting to make this game since way back in 2010! Back then Sarah and I were in Honduras and I had just started to write Incredipede. Our internet was terrible and we didn't have any books so entertainment for the dark-hours was not easy to find. Fortunately in one of the bright-spots of our internet-connectivity I read this article written by Tim W. about a prototype someone named Richard Edwards had released for free online. I played it and fell in love with the feel and the mechanics. It's got a wonderful Scorched Earth kind of gameplay but is more immediate and arcadey. I played the short prototype through but since it was so hard to download games I had to squeeze more fun out of it, it was the only game I had!
I started making extra challenges for myself and the game kept getting more and more fun. I'd remove a mechanic in the game so that it would be harder and the game would get more fun! I even wrote up a blog post about the challenges in case you want to try them.
After playing for a few days I wrote Rich a long gushy email about how much I liked the game and a bunch of annoying design notes about other directions he could push or pull the game. I was really excited about him doing a full version. He wrote back a friendly email saying he was working on some other prototypes and wasn't sure BrainSplode was the game he wanted to polish and release. Much to my sadness.
About a year later Rich released Pineapple Smash Crew, a game about running around abandoned spaceships throwing grenades everywhere. It's a really fun game and he released in on Steam and his own site. He dropped me an email asking for some feedback on the game just as I was leaving for Tokyo to show an early version of Incredipede at SOWN. We talked about Pineapple Smash Crew and I tried to convince him to make BrainSplode again. Infuriatingly, he demurred and instead went back to prototyping stuff instead of making the game I wanted to play!
A few months later Sarah and I were in the Philippines with some friends. Here is where I found Thomas Shahan and started working on the art for Incredipede. But I also couldn't get BrainSplode out of my head. I decided I had time to do design work on a new game and work on Incredipede at the same time so I wrote Rich and said basically "Dude, I want to clone BrainSplode, can I clone your game?" And Rich replied with something like "No… unless I do the art". Which was pretty much the perfect answer from my point of view!
I didn't have time to write the code for the game so I emailed my friend Mike Boxleiter who wrote Solipskier, 4Fourths and some other games I really like. He was working on Gasketball with Greg Wohlwend but had a two month window where he could work on another game. Luckily he was into it and he even came to the Philippines where work started on the new game. With Mike writing code, Rich doing art, and me doing level design we'd do it small and lean and crank it out in two months! And everything went great! For two months. But as everyone of you have predicted two months was not long enough to finish the game. After two months we had a pretty nice little half-finished game but when we lost Mike I couldn't take over coding because I was in the middle of Incredipede and Rich didn't want to do the entire game himself. So it went up on a shelf.
And it stayed there until April of 2013 when I was finished with Incredipede and Incredipede mobile and was finally looking for the next game. Now I had the time to write code so I emailed Rich and pitched him on restarting the game using the Incredipede engine. He was keen so BrainSplodeDeluxe was reborn!
We asked Mike for a price to buy him out of the partnership and he gave us very reasonable terms. He did a lot of fundamental design work on the game when we started and deserves credit and cash for his work.
So Rich and I started anew about a year and six months ago! It started as a small game we were going to crank out quickly but, as these things go, we got more and more attached to it and more and more excited about it until it became a for-real beautiful full-hearted creation. The last year and a half of development on Deep Under the Sky has been some of the most fun I've had making games. I got lucky again with Rich as a collaborator. He's great to work with, produces amazing art and has brought all his make-that-game-feel-amazing design chops to this game.
And so after that first email written four years ago finally there is almost a full version of BrainSplode in the world. Coming this summer: Deep Under the Sky!