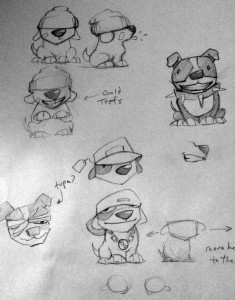 Me and ma homie Sara Gross of Two Bit Art be whippin up a bangin mobile game called Word Up Dog. It's a spelling game… hilarious amirite?
I was eager to work with Sara on something; not just because we both have the same awesome name, but because she draws these amazingly derpy-cute characters like Oregon Whale and Stitchy. Her more serious art is super beautiful too of course – check out her webcomic Menagerie. But it was her bizarro Orca Jam 3 tshirt design that sold me.
Twoby's got the juice in my books.

The game starts with some rhymes:
"This is the story all about how my life got flipped-turned upside down. I was chillin in my crib just digging for some grub, when outta nowhere the ground swallowed me up!"
The main character (the Dog) is no Fresh Prince – he's probably the opposite, more like a clueless suburban wannabe. But this is a cheesy, family-friendly game. The kind of tidied-up hiphop culture you could tune into on NBC and watch with your kids.