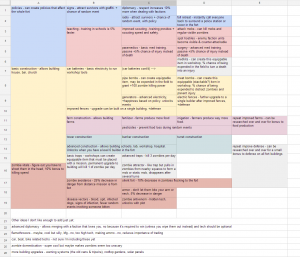 In Rebuild 3, engineers won't be the silly white-lab-coated scientists of earlier games. They're gonna have to get out there and get dirty.
"Tech" isn't even the right word for what they get up to in those labs. Most of the things you'll research in Rebuild: Gangs of Deadsville are pretty mundane… Irrigation, for example, is a matter of digging ditches to bring water to your farms, because city water and sprinklers no longer work reliably.
They'll be designing medical training programs, rigging up generators to power electric fences, organizing more efficient night watch routines… and of course pulling zombies apart to see what makes them tick. Come to think of it, that may still require white lab coats and safety goggles.
In Rebuild 2, research was in three linear paths: getting more food, defending against zombies or recruiting and keeping survivors happy (also towers in the mobile version). The Rebuild 3 tree is 3x the size and more meandering. You'll be hard pressed to research everything in a single game, so choose your path wisely.
I decided to tie more lategame abilities into the research tree so you could unlock things gradually as you play, for example the ability to craft traps, medkits and fireworks. Policies, building upgrades and workshop missions all need to be unlocked via research now before they'll appear in the game.
Other research projects improve your fort defense or reduce your casualties in one way or another. You'll definitely want a few of those as the zombie hordes start to build up outside your walls.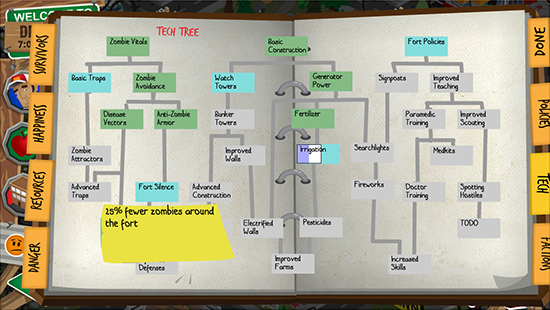 Getting your first lab will be harder now because you can't build them initially (you need to research that of course!), but you'll usually start near one you can reclaim. Events in the game also give you a chance to build labs, and even to get research for free.
One of the problems in Rebuild 1 and 2 was that you'd run out of thing for scientists (now called engineers) to do. With this much larger research tree, plus a new mission to craft items in workshops, they'll have plenty to occupy their time inside the fort. Hopefully enough that nobody will send them out to shoot zombies or scavenge or any of that dangerous stuff.
God forbid they get their white lab coats all dirty!